Shortcutz Amsterdam International Audience Award / Vienna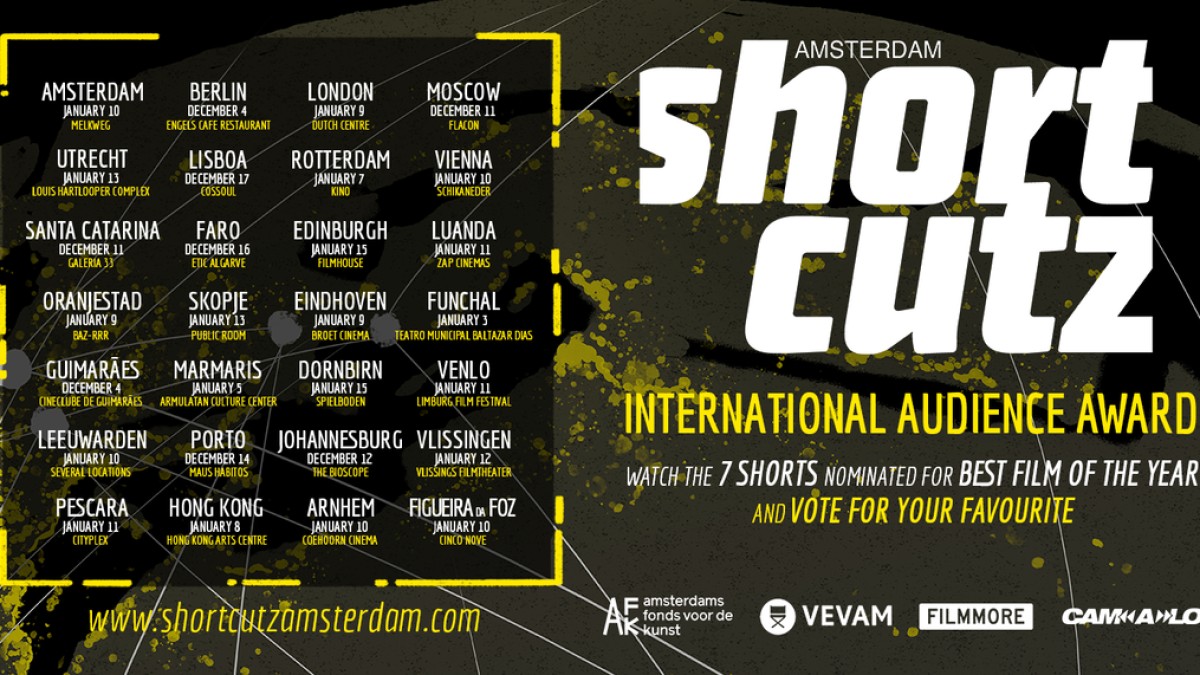 SHORTCUTZ AMSTERDAM INTERNATIONAL AUDIENCE AWARD schikaneder, Vienna

Every year, Shortcutz Amsterdam goes international to ask a global audience who is the best up-and-coming Dutch film talent. For our Audience Award, we tour with the compilation of the 7 nominees for Best Film of Year, from December until the 16th of January, in more than 26 cities around the world. After watching the 7 films' compilation, each member of the audience can vote for their favourite film.
---
FACEBOOK
NOMINATED FILMS
ACCIDENT von David Cocheret | Live-Action | 5'30''
DAYDREAMING von Yim Brakel | Live-Action | 10'01''
CROW'S NEST von Flynn von Kleist | Live-Action | 12'43''
FUNDAMENT von by Wilbert van Veldhuizen | Animation | 05'55''
SCHOOL'S OUT von Jamille van Wijngaarden | Live-Action | 11'21''
NOBU von Sarah Blok & Lisa Konno | Documentary | 09'20''
AT FIRST SIGHT von Sjaak Rood | Animation | 15:00

JURY TEAM
These films were shortlisted by our jury team, composed of actor Rutger Hauer (Blade Runner) [until June 2019]; producer Jan Harlan (The Shining), director Hany Abu-Assad (The Mountain Between Us), Senior Executive Producer Warner Bros' Stage 13: Kim Sherman, director Roel Reiné (Marvel's Inhumans); actress Willeke van Ammelrooy (Antonia's Line); actor Tygo Gernandt (Van God Los); director Eddy Terstall (Simon); producer Pieter Kuijpers (Van God Los); Marina Blok, Head of Drama NTR; actor Vincent van Ommen (Amsterdam Heavy), Programmer De Balie Parwin Mirrahimy, EYE senior programmer and head of acquisitions René Wolf, actress Sigrid ten Napel (Penoza), and street-artist Laser 3.14.

WHEN & WHERE ?
If you live nearby: AMSTERDAM (The Netherlands), ARNHEM (The Netherlands), BERLIN (Germany), DORNBIRN (Austria), EDINBURGH (UK), EINDHOVEN (The Netherlands), FARO (Portugal), FIGUEIRA DA FOZ (Portugal), FUNCHAL (Portugal), GUIMARÃES (Portugal), HONG KONG (Hong Kong), JOHANNESBURG (South Africa), LEEUWARDEN (The Netherlands), LISBOA (Portugal), LONDON (UK), LUANDA (Angola), MARMARIS (Turkey), MOSCOW (Russia), ORANJESTAD (Aruba), PESCARA (Italy), PORTO (Portugal), ROTTERDAM (The Netherlands), SANTA CATARINA (Brazil), SKOPJE (Macedonia), UTRECHT (The Netherlands), VENLO (The Netherlands), VIENNA (Austria), and VLISSINGEN (The Netherlands), join your local screening and vote for your favourite film.

Shortcutz Amsterdam will collect all the participant cities' votes and announce the overall winner at the 7th shortcutz amsterdam annual awards - january 19th 2020, 20:00 (cet) at EYE (Dutch film museum). This gala will be streamed live on Shortcutz Amsterdam Facebook page.
--------------------
More info

Program Vienna:
►19.00 - Get Together at the Kino bar w/ Dutch snacks & drinks
(some free most not)
►20.30 - Screening of short films w/ hosting, casting and collecting of the votes, reserve ur seat on info@newground.at
►22:00 - DJ slot
►max 04.00 - The End - find ur way home and be safe

We still hope to come with more sweet surspises but for now just stay tuned.

#shortcutzamsterdam #dutchfilmdays #schikaneder #wenenbruist #pedalpiraten #metropolevienna #oostenrijkmagazine #viennafilmcommission #NederlandseVerenigingWenen #kvng