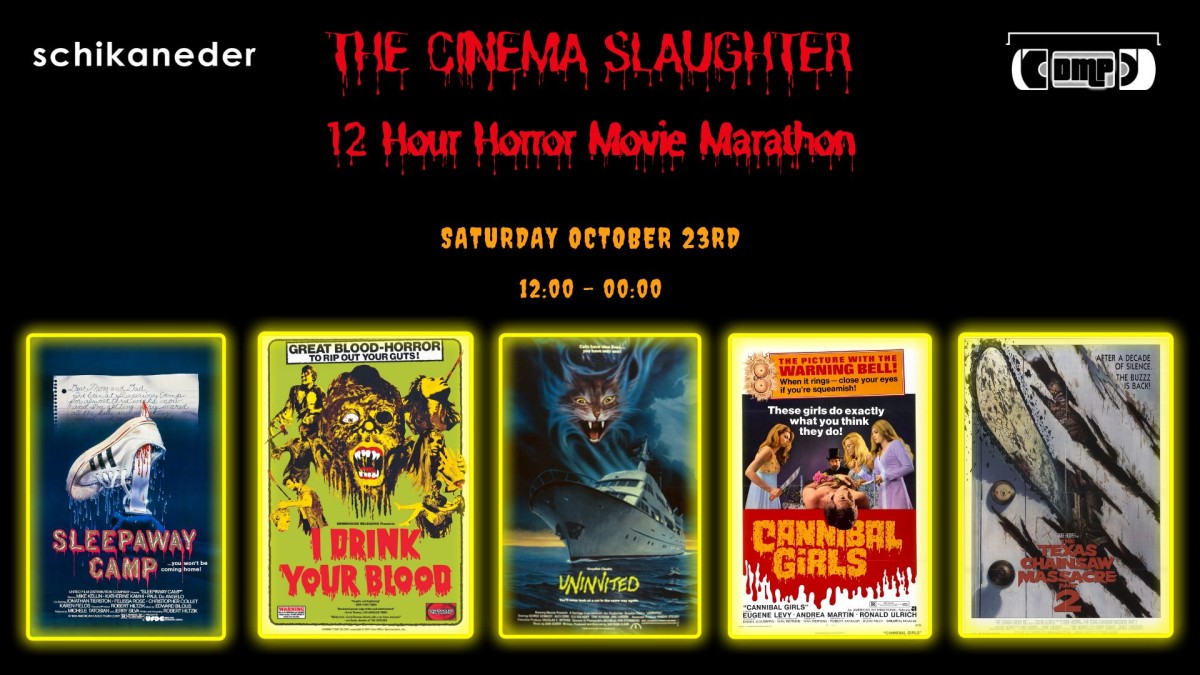 Til Midnight Movies and David DMP Moore invite you to the ultimate cinematic horror experience: FIVE horror classics back-to-back, fully UNCUT, and digitally remastered! PLUS horror movie trivia, awesome prize giveaways, drinking games, classic horror trailer shows, classic grindhouse intermission pauses, and MORE!
THE CINEMA SLAUGHTER: 12 Hour Horror Movie Marathon
SATURDAY October 23rd
12:00 - 00:00
WARNING: MANY OF THE FILMS SCREENED IN THIS MARATHON WILL SHOW SCENES OF GRAPHIC VIOLENCE, GORE, CANNIBALISM, AND SADISM - ABSOLUTELY NO ONE UNDER 18 WILL BE ADMITTED.
LINEUP

Texas Chainsaw Massacre 2 (1986)
Sleepaway Camp (1983)
Uninvited (1988) - With drinking game!
I Drink Your Blood (1970)
Cannibal Girls (1973)
Pillows, blankets, sleeping bags, and anything else to make you more comfortable in the kino is welcome!
Tickets: €26 - ALL INCLUSIVE!
STRICTLY 18+
DMP Cinema Event Community Group:
https://www.facebook.com/groups/456894021734180